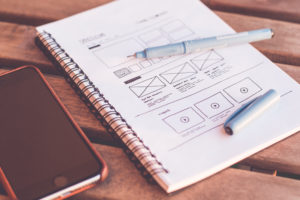 One of the biggest questions I always get asked is about choosing WordPress themes. I come across many beginners who are new to WordPress and are learning their way through everything – themes, plugins, child themes etc. This post is about how to find a theme that works for you.
There are many themes both free and paid and choosing one theme that gives you everything you need for your site from a sea of themes sounds practically impossible. Add to that all the new features that get added to themes every day, it feels like it is a huge task to get the theme that'll work for you.
I will walk you through the process of choosing a theme. Yes, it is a process. You don't have to spend lot's of hours on it, but a couple of hours spent will give you a good enough theme to start with.
Before you get all excited and open your browser to do some theme searching, you need to do your homework. Here is a list of things you need to have before you start searching for themes.
Write down your priorities

What is your website about? – Why is this important? Because not every website can have the same set of colors or organization. The layout of the website will depend a lot on the type of site.
Do you already have a logo? If yes, do you want to choose the website colors that are close to your logo?
Do you want a slide show on your home page?
Is this a blogging site? e-commerce site? A regular website with static pages?
What do you want to display on your home page – blog posts? Products? Images? Videos?

How tech savvy are you?

Can you write a little bit of HTML and CSS?
Can you create a child theme?
Are you familiar with FTP to add/remove stuff to your site?
Are you familiar with shortcodes?

Finding a theme on wordpress.org
There are a number of websites where you can find a theme for your WordPress website. I am going to focus on getting a theme from wordpress.org. WordPress.org has free themes which have gone through a rigorous review before getting up on the site for download.
One thing to remember is that you should not be looking for the entire functionality to come from the themes. Themes are most useful for the layout of the content and colors of the website. Not functionality. Some themes do come with certain functionalities and that is good. But, try to use plugins to add functionality to your site. That way, if you end up changing your theme, your plugins will still work.
One advice I will give is to choose a responsive theme. Mobiles and tablets are being used more and more to view websites. So, choosing a good responsive theme saves you hours trying to make the site look good on the different devices.
Head over to https://wordpress.org/themes/ to find a list of beautiful themes. The featured themes are shown by default. You can look under popular or the latest themes. You can also use the super cool Feature Filter. This has a nice set of features you can select. This is where your earlier homework comes in handy. To use the feature filter to your advantage, you need to know some of the important things you want for your site.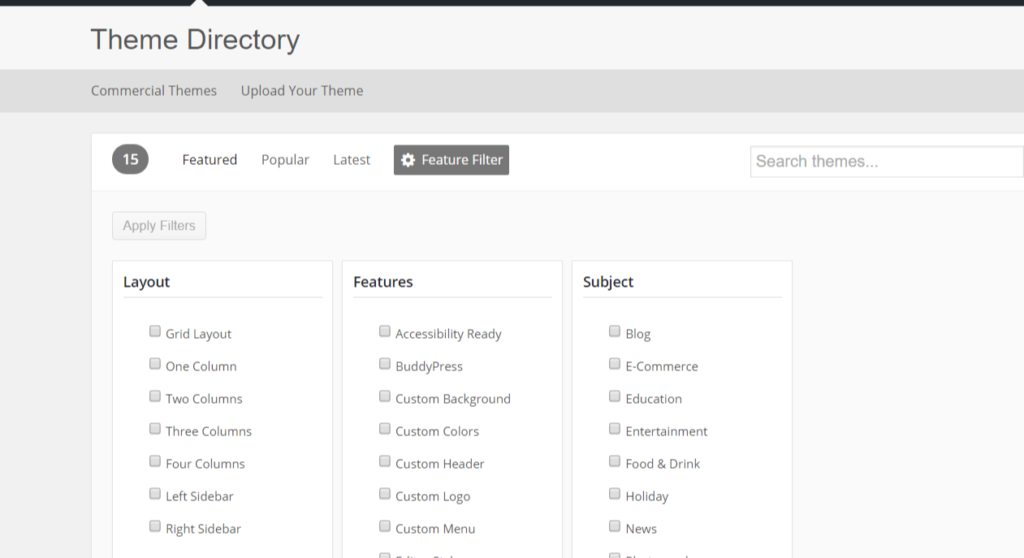 Once you have a list of themes, there are a few more things we could look for. You can click on the theme for more information about it. What exact information are we looking for?
Last updated date: One of the first things you want to check is when this theme was last updated. You would generally want to select a theme which has been updated recently. Why? Because, WordPress releases updates on a regular basis to fix many bugs. If the themes are not updated regularly, they might have security issues or they might not work well with the current WordPress version.
Next thing to pay attention is the number of active installs. This is number of sites that are currently using this theme.
You can check the ratings and reviews of the theme. But, I would advise you to not put too much weight on these. Looking at the number of ratings for each star does not tell you much. If you click on the bar for each of the rating, it will give you a detailed list of the reviews. You can actually read what people had to say about the theme. I usually read the one star ratings. They will tell you if there are any things to look for. That said not all one star ratings are bad. Users might have given it a 1 star because it lacked a few features that they wanted. Not necessarily a bad thing. You might or might not need those features.
The next thing you can look at is the support forum for the theme. This will tell you if the support tickets are being answered quickly. This is also a place you can go to if you run into problems while you are setting up that theme. So, make sure that the theme has a good support forum.
One other thing to keep in mind is about how old the theme is. Old themes have more users and many bugs have been discovered and fixed. So, there is a higher possibility of you finding a solution if you have any issues with the theme. But, if the theme is not being updated as and when WordPress is updated, then you are bound to run into issues which will be difficult to fix.
If a theme is new, you probably would not have issues with compatibility, but also there are not many users for the theme yet. So, you might run into issues which might not have a solution yet. If you are looking for something specific, I would go into the support forums and see what issues the theme has and if and how that will affect you.
If you really like the theme and do not find any reviews or ratings on the wordpress.org site, I would do a quick Google search to see if you can find something about the theme.
Installing the theme and setting it up
So, you have now found the theme that you want to use. The next step would be to go into your WordPress dashboard -> Appearance -> Themes and search for the theme you just found. All the themes found in wordpress.org can be found in your dashboard under appearance-> themes. Find that theme and preview it. It will show your site content with the theme so that you'll have an idea of how your live site would look. Bear in mind though, you have not entirely set up your theme. So, it might not look that great in the preview but, it will still give you a general idea.
You can then install the theme and play around with it. Most of the themes will usually come with documentation you can follow as you set up your website.
One of the best ways to test a theme would be to install it and try to set it up. Sometimes you will need to try a few themes before you settle down with the theme you like. But, also you might never find the perfect theme you are looking for. I would suggest launch your site with a nice theme (even though it is not exactly like how you want it) and keep working on it to make modifications as needed. Sometimes the functionality you are looking for can be achieved by using a simple plugin.
5. What if you cannot find a theme that suits your site
If, after searching through the entire WordPress.org, you do not find anything you like? You can quickly do a Google Search and you will find many websites with WordPress themes – both free and premium. I have used many of those themes myself and most of them are fine. All the rules above still apply. Make sure you know what you are getting for that price. I would still recommend using a free theme especially if you are beginner and get adjusted to the WP Dashboard. Once you are more comfortable and ready to explore, you can purchase a theme.
The other option would be to hire a web designer and developer to help you build a custom design and code a custom WordPress theme.
I have been using WordPress for more than 5 years and I have played around with plugins a lot. Plugins are an essential part of any WordPress site. Every WordPress site is unique and the plugins we use for the site will depend on the functionality of the site.  Here, I am going to list a few plugins that are essential to any WordPress site irrespective of it's functionality. The plugins I will be talking about here do not have anything to do with how the site functions. These plugins do not add anything new to the front end of the site (except for one). They are tools that help with site maintenance and ease of use from the back end.
There are a lot of plugins out there and most of them are very good. The plugins I mention here are the ones that I have been using or have used it on a client's site and I know that it wrorks well. Here are the plugins in no particular order. For each of these plugins, we will be looking at why these plugins are important, what are the easy to use plugins for each and some details of the plguins.
Backup Plugins
Security Plugins
SEO Plugins
Contact Form Plugins
Plugins that enhace the WYSIWYG editor capabilities
Let's look at each of them in detail:
Backup Plugins
Why are backup plugins important?
They make it very easy for you to make a backup of your site. It is very important to make a backup of your site on a regular basis. Even if your hosting is providing backup, it is still a good practice to make a backup of your site. It is also important to store your backup away from your site so that if your site gets affected by malware, you can restore it from your backup. It is always a good idea to save the backup in a cloud server – Dropbox, OneDrive, Amazon S3 etc…
The backup plugins give you all these features and more. They make it super easy to make backups with the single click of a button. They give you options to automatically email the backup files to yourself or send the backup to a cloud server. You can also schedule backups and not have to worry about it anymore.
There are two backup plguins that I have used and are very good.
This is a free plugin with a pro option. For most of the sites, the free version works fine. It is very easy to setup and also has some tutorials to get you started. Free version has options to backup to Microsoft Azure, Dropbox, Rackspace Cloud Files, FTP Server, Web Space and Sugar Sync.
This is also a free plugin with a pro option and woks fine for big sites as well. I currently use it on one of my clients's sites which has a lot of images. The backup is done pretty quickly and is sent to Dropbox. It is very simple to setup and the free version has options to backup to Dropbox, Gogle Drive, FTP, S3, Rackspace and email.
Security Plugins
Why are Security Plugins important?
Security plugins protect your WordPress site. Any WordPress site needs a security plugin. I have met many people who say that they do not have any e-commerce or that their's is a very small site and so they don't use a security plugin. But, small or big, ecommerce or not, you need to make sure your site is secure. Websites are hacked because of weak passwords, vulnerabilities in plugins or themes or if the site is not up to date. Server vulnerabilities can also cause your site to be hacked. So, your site must be secure.
A couple of the most popular security plugins and a few features of each of the plugins.
Gives you a detailed IP info
Scanns for malware
Repairs files
Blocks Brute Force attacks
Country blocking
Brute force protection
File change detection
Strong password enforcement
Hide login and admin
SEO Plugins
Search Engines bring traffic to your site and so you want to make sure you have the terms the user is searching for. SEO plugins make it easier for you to add keywords and meta descriptions for every page and post on your site. They actually have a lot of features that help with SEO.
The most popular SEO plugins is Yoast SEO (formerly known as WordPress SEO by Yoast).  It has a free and premium version. Simple to setup and has a bunch of features – post titles and meta descriptions, Breadcrumbs, XML Sitemaps etc. The free version should be pretty good for a small site.
Google Analytics
I want to mention Google Analytics here because it kind of goes hand in hand with your SEO. Google Analytics is a web analytics service that tracks and reports website traffic. If you are trying to improve your SEO, then you should also track your site with Google Analytics. It gives you a lot of statistics about your site like the number of people visiting your site, the pages they viewed, the most popular page on your site etc. It also gives you information regarding keywords used by people to search for your site. This helps with SEO as you can assess the keywords and make improvements.
Google Analytics is free. You can login with your Google account and get a tracking code for your site. After your site is setup, you can either login to Google Analytcs site to view your data or you can install a Google Analytics plugin that will show you the data in your wp-admin dashboard. There are many different Google Analytics plugins. I mentioned the one I use.
Contact Forms
Contact forms are the most important part of any website. They need to be simple and user friendly. The most popular contact form plugin is the Contact Form 7. Very easy to setup and you can have different types of contact forms on your site. You can specify the required fields, can have multiple email addresses in a dropdown etc. The styles can be customized to match your theme (you need to know some CSS for this). You can also add the captcha feature with the form with reCaptcha.
Plugins that enhance the WYSIWYG Editor capabilities
The WYSIWYG editor makes it very easy to write content on the posts and pages. It gives us a number of tools to style the text by changing font sizes and colors. But, there are a few features missing in the default WYSIWYG editor. TinyMCEAdvanced improves the features of the editor. They add features like adding a table, or background color for the text etc right from your editor. It comes in pretty handy when you want to insert a simple table in your post or page.
The TinyMCE Widget plugin gives you a nice little widget on your sidebar. You can use this instead of a text widget and you will get all the functionality of the post/page editor in your sidebar.
There are a few more plugins that can be mentioned here which might be useful for majority of the sites.
JetPack – A huge set of different plugins in one pack. You can enable or disables the individual modules.
Wp-Cache – Helps with caching the site so that the pages load faster
Broken Link Checker – If you have a lot of pages on the site, you can track all the links in different pages/posts using this plugin. It shows you if a link is broken so that you can fix it.
Wp Help – Useful little plugin where you can write helpful instructions for managing your site.