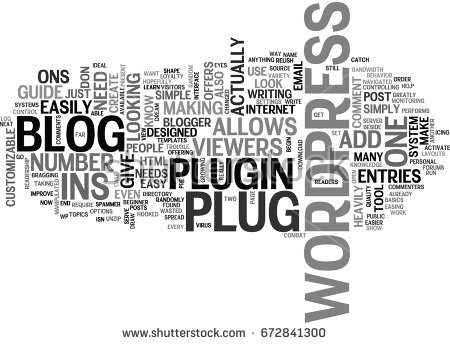 I have been using WordPress for more than 7 years and I have played around with plugins a lot. Plugins are an essential part of any WordPress site. They add functionality to your site and should be determined by the features needed for the website.
There are so many plugins in WordPress that sometimes it is difficult to figure out the where to start and what plugins you need on your site. This is especially true if you are new to the WordPress world and are trying to build your website. You might be overwhelmed by the sheer number of options available. Every site is different and requires a different set of plugins, but, some plugins are common and are useful for all the sites irrespective of the size and type of the site. I will talk about the most important plugins you will need to get started with your new WordPress site.
Forms are important for every website. There are many different uses for forms, the most basic being a contact form, registration or login forms, and forms for requesting a quote. A form is a simple way for your users to communicate with you. You are giving them the opportunity to interact with you and that helps you increase your user base.
If you are planning to sell products or services through your website, then you certainly want your customers to be able to contact you for a quote or more information on your products. There are many websites where you can see an email address on the contact page. Even though it is possible for your users/customers to email you, it is much easier using a form. Forms make it easier for them to fill it out right away.
There are many different plugins for forms and all the plugins are equally good. If you are a beginner building a WordPress site, it might be a better idea to try out a few of the free plugins before purchasing a premium one. The free plugins offer a lot of features and many of them have a premium version. If you like the free plugin and you need the premium features, you can purchase it at that point.
Here are some of the simple and easy form plugins. All the plugins listed below have a free version that provides a lot of features except Gravity forms. Gravity forms only has a premium version. More Form plugins
WP Forms
Ninja Forms
Contact Form 7
Gravity Forms (premium)
JetPack
Search Engine Optimization
SEO is an important part of your website. You need to optimize your site so that the Search Engines can find it. Optimizing your site involves adding relevant keywords, search engine friendly titles and meta descriptions to every single page and post on your website.
You also need to have SEO friendly images which means adding relevant alt text and titles for your images. In addition to all this, you also need to make your content readable. Even though you need your site to be found by the search engine bots, the content is for people. This means you need to make it easy to read, understand and comprehend. This is what will ultimately bring people back to your site for more content.
All of this is made super simple by the SEO plugins. They give you tools and tips to get the job done quickly and get you the most results.
There are many awesome SEO plugins available and almost all of them have free and premium versions available. If you are just starting out, it might be best to try out the free versions first to see if you like the plugin. If you have a simple site with a few static pages and a blog, the free version should be more than sufficient. If you have a big site or an ecommerce site, you might eventually need the premium version.
Yoast SEO
All in One SEO Pack
The SEO Framework
Rank Math
Broken Link Checker: Another big part of SEO is to make sure that your content is valid. Most of the pages and posts have internal and external links. We need to periodically make sure that these links are still valid. The best way to keep track of the links is to use the Broken Link checker plugin. This plugin gives you a list of broken links on any page or post on your site. You can see the list in your dashboard and fix the links from the dashboard without even editing the pages or posts. A really nice little plugin to make our lives easy. More SEO Plugins
Google analytics goes hand in hand with SEO. Analytics gives you the information about the visitors to your site. It's not just about the number of visitors, but also information on what pages they visited, and what terms they used to find your site. These are important so that you know what works and can improve it as needed.
Google Analytics data is available if you go to Google Analytics webiste, but the plugins make it easy to see all the information in your WordPress dashboard. There many different plugins and most of them are free with a premium version.
If you have an ecommerce site, you might want to try the last one in the list which is specific for ecommerce.
Google Analytics Dashboard for WP
Monster Insights
Analytify
ExactMetrics
Enhanced Ecommerce Google Analytics Plugin
Caching improves the speed and performance of your website. This helps with your SEO as well. The faster a site loads, the better visibility it will have. There are many different caching plugins available. These plugins are pretty straightforward and require very little setup. If you are new to WordPress or have a basic site, the free plugins should be more than enough for your website. If you have a bigger site or an ecommerce site, you might want to look into the premium versions.
Here is a list of a few caching plugins:
WP Super Cache
WP Total Cache
SG Optimizer
WP Rocket (Premium)
Optimizing your images is part of SEO and it means that the image size is reduced without compromising on the quality. It reduces page loading speed & improves the overall experience for the user.
Some of the image optimization plugins available:
Optimole
Smush
ShortPixel
Imagify
EWWW Image Optimizer
More Image Optimization plugins
The security of your website is as important or even more important than the other features of your site. There are many different ways you can make sure that your website is secure.
Have a different url for your admin login rather than the regular /wp-admin
Have a strong password
Limit the number of login attempts to your site. This ensures that if someone is trying to get into your site by guessing passwords, they will be thwarted after a few attempts.
WordPress security plugins make it simple & easy to keep your site secure. The plugins are easy to configure and will alert you when unusual activity occurs on your site.
Here are some of the security plugins:
WP Security
Secure hosting
Limit failed login attempts
Ability to block access to certain IP addresses
Wordfence
iThemes Security
Sucuri Security
All in One WP security
WP Limit login attempts
Login LockDown
Akismet
Backups are very important to any website. There are many different ways to backup your site information. Most of the hosting companies do provide a backup option which is nice, and it is always advisable to use the backup options provided by your hosting. But it is also useful to save your backup away from your hosting site as well so that it is easy to restore your site in case you cannot login to your hosting account.
Using a WordPress plugin is the easiest way to backup your site. You need to make sure that you schedule your backups at least once a week. If your site is big and you are adding/modifying content daily, then a daily backup is a must. You also need to make sure that you are backing up your site's content and the database. Both of these are required to restore your site.
There are some awesome WordPress plugins that let you schedule and store your backups in a cloud storage like Dropbox of Google Drive. They also make restoring your site super easy with a few button clicks.
UpdraftPlus
BackWPUp
Backup Buddy
Duplicator
VaultPress (JetPack Backups)
How to choose a Backup Plugin for your WordPress site?
Social media is now part of everyone's life whether we like it or not. If you have a website and would like to increase your user base or the visibility of your site, social media is the best platform to do so. The minimum you can do is to share your blog posts on the various social media.
Using WordPress plugins to share your blog posts directly from your site will save you a lot of time and effort. Many of these plugins also offer the option to customize your text and image for each of the social media platform you choose.
Along with sharing your posts, you should also give your users an option to share your posts and content on social media. Adding the sharing buttons to your posts and pages will make it easy for your users to share.
Here are some good social media plugins:
WP Social Sharing
AddToAny
JetPack
Sassy Social Share
Simple Social Icons
Newsletters and emails are the best ways to send out curated content to your users. Having an email subscription form on your website is the easiest way to gather emails of users interested in your content. Some of these plugins gather the emails and you can see them on your dashboard. Some of the others integrate with your email marketing platforms like Mailchimp or Constant Contact and add the user emails directly to your preferred list.
JetPack
OptinMonster (Premium)
WP Subscribe
Mailchimp, Aweber, ConvertKit
More Email Subscription plugins
If you are using the WordPress block editor (aka Gutenberg editor), you already know that it is super easy to create posts and pages using blocks. Block plugins give you additional blocks that you can use along with some extended functionality for the core WordPress blocks. There are many different block plugins available and each of these plugins offer a variety of options to choose from. You can try out these plugins to see if they offer the blocks you would like to create your content.
Ultimate addons for Gutenberg
Stackable ultimate Gutenberg blocks
Kadence blocks
Atomic blocks
CoBlocks
Get tips and tutorials on using the new block editor, WordPress themes and plugins!